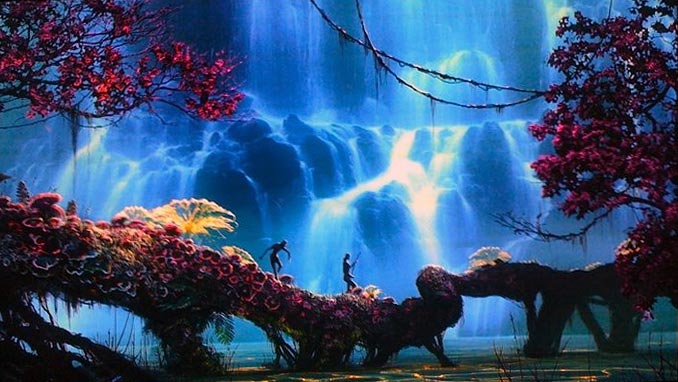 "Avatar" is a James Cameron movie in 3-D. Those words alone tell you a lot, but they don't tell you everything. Not by a long shot.
The "Avatar" plot is familiar, an easy mashup of cowboy movies, "Dances with Wolves," "Pocahontas" and even "Ferngully," a 1992 children's film in which the fairy people defend their rainforest from predatory loggers, with the assistance of a turncoat logger "gone native." (The "Ferngully" reference comes courtesy of Elder Daughter.)  There's also a backhanded swipe or two at U.S. policy in the oil-rich Middle East.
However, a more original, demanding plot might have detracted from the true achievement of "Avatar," which is the conception of an entirely new world and its presentation on the movie screen. Cameron, who has a taste for the grandiose, has said that watching "Avatar" isn't like watching a movie, "it's more like being in a dream state, like dreaming with your eyes wide open," and it's not bragging if it's true.
It's not bragging.
The world of Pandora is well imagined and fully realized, in three dimensions, and its actors are completely integrated into that world. As a result, so is the viewer. Cameron is right: You don't watch "Avatar," you experience it. The great sci-fi writer Arthur C. Clarke liked to say that "any sufficiently advanced technology is indistinguishable from magic," and the technology behind "Avatar" fully meets that test.
Cameron helped create much of that technology, but his bigger achievement may be in how he chose to use it. For the most part, he does not handle 3-D technology as a cool toy to be played with, and you seldom catch him showing off. It is not a gimmick, it is the medium in which he is working, and the respect he gives it is rewarded. The same is true of the motion-capture technology used to convert his actors' movements, gestures and expressions into digital beings on the screen. It is seamless.
Cameron has predicted that 3-D technology will transform modern cinema in much the way color transformed the movie industry in the late '30s. I'm not sure I agree. Within a few years of its introduction, color had become the film industry standard and black and white movies had all but disappeared. I don't think 3-D will have quite that impact, because not all genres will benefit from it.
But all James Cameron movies will.