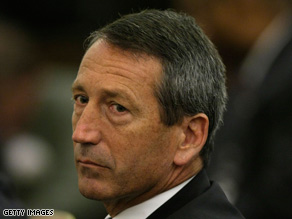 Has anybody seen this guy?
Because he apparently went missing on Thursday and was last reported here in the Atlanta area. Calls to his cell phone went unanswered, and his wife said earlier today that she had no idea where he was.
However, officials now say that he has been located, although they still won't say where.
And oh yeah, one more thing. He's the governor of South Carolina.
From The State:
The whereabouts of Gov. Mark Sanford was unknown for nearly four days, and some state leaders question who was in charge of the executive office.

But Sanford's office told the lieutenant governor's office Monday afternoon that Sanford has been reached and he is fine, said Frank Adams, head of Lt. Gov. Andre Bauer's office on aging.

Neither the governor's office nor the State Law Enforcement Division, which provides security for governors, had been able to reach Sanford after he left the mansion Thursday in a black SLED Suburban SUV, said Sen. Jake Knotts and three others familiar with the situation but declined to be identified.
Sanford

Sanford's last known whereabouts had been near Atlanta because a mobile telephone tower picked up a signal from his phone, authorities said. His office now knows where he is, Adams said.

First lady Jenny Sanford told The Associated Press earlier Monday her husband has been gone for several days and she did not know where.

She said she was not concerned.

The governor's state and personal phones had been turned off and he had not responded to phone or text messages since at least the weekend, a source familiar with the situation said.

Jenny Sanford said the governor said he needed time away from their children to write something.
According to Wikipedia, Sanford has four sons. But personally, seeking time away from the kids over Father's Day weekend strikes me as a bit … odd?