Follow the blog on TWITTER
Apollo 14 astronaut Edgar D. Mitchell, the sixth man ever to walk on the moon, has a message for all citizens of Earth: We are not alone.

"We are being visited," the 79-year-old grandfatherly "spacefarer" told 100 or so UFOlogists gathered at a National Press Club conference called by the Paradigm Research Group (motto: "It's not about lights in the sky; it's about lies on the ground").

"It is now time to put away this embargo of truth about the alien presence," said the astronaut who made the longest moonwalk in history. "I call upon our government to open up … and become a part of this planetary community that is now trying to take our proper role as a spacefaring civilization."


With a new, perhaps more intellectually curious president in the White House, UFOlogists say, the time is ripe for the United States to follow the lead of other nations and release all classified files about government interaction with extraterrestrial beings. In fact, PRG founder Stephen Bassett demands that the Obama administration dump the documents, and quick.

"If it does not disclose, by the end of May — this is not a threat or anything, you don't threaten the United States government, they're heavily armed — the PRG has an enormous and substantial network, and quite a bit of documentary evidence connected to this, particularly politically … and we are going to be extensively putting that out to the media, and we're just going to make it as difficult on them as possible," Mr. Bassett said."
A lot of people talk about illegal immigration, but they don't know the half of it. My fellow Earth People, THIS is illegal immigration on a planetary scale! Extraterrestials are pouring into our cities and towns at this very moment, stealing government services while paying no taxes whatsoever, trying to change our culture from within and bringing strange and exotic diseases with them, all in a secret plot to reclaim what they call Planet Aztlan.
How can we spot these creatures from outer space, alien beings that would otherwise walk among us unnoticed? According to experts at the Spare-A-Dime Research Group, here are the top five clues to spotting an alien:
1.) When confronted about their place of birth, they suddenly become evasive and try to change the subject, refusing to provide the proper government certificates. Often they will claim to have been born in some place so weird that it becomes impossible to verify their claim. Like France. Or Indonesia. Or Kenya. Or Hawaii.
2.) They exert strange powers over the minds of human beings — for example, in at least one documented case a suspected extraterrestial has been able to drive an entire opposing political party entirely around the bend.
3.) Their mother ship sends them orders about what to say and do here on Earth through an advanced device known in their language as a "TelePrompter."
4.) They apparently take their concept of American domestic life from TV broadcasts that they monitored from space back in 1950s and 1960s. Based on shows such as "Ozzie and Harriet" and "Leave it to Beaver," they try to fit in by creating "families" with two "parental units" and two adorable "children," even going so far as to adopt a "dog." Being aliens, they fail to understand that by being so "normal" they become abnormal, because no real Americans live like that anymore.
5.) Here's your final clue: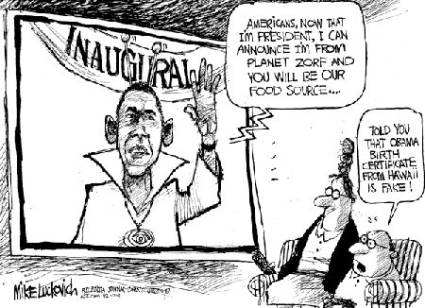 Be frightened, my fellow Earth People. They walk among us.